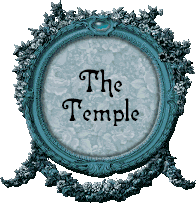 Q+A: NEO-PAGAN TRADITIONS
by Doug and Sandy Kopf

WHAT IS A TRADITION?
The lore, liturgy and training upon which the practice of a group is based. Something that is done over a period of time (not a week, or a few months!) and is passed on to others, who continue to do it.
WHY ARE THERE SO MANY?
Because the Craft is a very diverse religion, with no one true and only way of doing things.
What is right for one may not be right for another.
WHY IS A TRADITION IMPORTANT?
Because it is a proven recipe for Spiritual growth. A Tradition provides a foundation, roots, and bonding with other members of the Tradition. It contributes to the development of a group mind.
CAN'T I JUST START MY OWN?
You can, but you should learn an existing one, first. You need to use a cookbook to bake your first cake. Later, you can invent a recipe!
HOW DO I DECIDE WHICH TRADITION IS BEST?
No Tradition is best: each one is best for the people who are working within it. You should choose a Tradition based upon your emotional response to its rituals, its Pantheon, and its members.
ISN'T OLDER BETTER?
Not necessarily. However, the longer a Tradition is continued, the more certain it becomes that the recipe works.