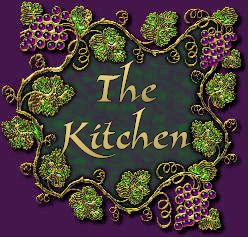 RECIPES FROM COVEN ASHESH HEKAT

The main things to consider when preparing for a festival pot-luck are eye/taste appeal, relative cost, and ease in preparation. Most of the dishes we suggest here rate A-plus in at least two out of the three. We have tried all of them, enjoyed all of them, and hope you will, too!

2 whole artichokes, extra large, if possible

1/2 cup olive oil

l tsp. sweet basil

l tsp. leaf oregano

1 tsp. salt

l tsp. black pepper
Place artichokes stem down in large pot. Cover with water. Bring to a boil. Cover, and cook for 40 min. or until leaves pull off easily.
Discard outer leaves and thin, purple, inner leaves. Remove the choke. Arrange the leaves sunburst fashion on serving platter. Cut the heart, bottom, and soft part of stem into small pieces and heap in center.
Heat the olive oil in a small saucepan and mix in seasonings. Drizzle over artichoke leaves, paying special attention to the meaty white areas, or serve warm in a dish alongside platter.
When artichokes are in season, even the giants (the best!) only cost about $1.00 each. This dish is fun, inexpensive, and low calorie. About the only real work is arranging the leaves on the plate. Do be sure to include an empty bowl to receive the bitten leaves. As an alternative to the olive oil, you can serve mayonnaise or any favorite salad dressing for dipping.
1 to 1 1/2 dozen hard-boiled eggs, peeled.

2 large jars pickled beets.
Remove beets from the juice in jars. Replace with eggs. Refrigerate for two weeks before serving. (Eat the beets for dinner.)
Nothing is much easier than this. You prepare it two weeks in advance, and grab it on your way out the door. It is in closed jars, so you have no packing/transportation problem, and leftovers are put away in their own container. The cost is under $5.00. To top it off, red eggs are traditional throughout Europe and Russia at Spring. (Fertility symbol!)
For perfect hard-boiled eggs, use eggs that are at least a week old, never fresh from the market. Start with cold water, covering the eggs. Bring to a boil and continue boiling for ten minutes. Cool immediately under cold running water for at least 15 minutes. Return the eggs to their carton and continue cooling in the refrigerator for at least an hour. If you do this, your eggs will never fail to peel easily and smoothly.
1 dozen hard-boiled eggs, peeled and cut in half.

3 tsp. sour cream 1/4 onion, minced

1 tsp. brown mustard parsley, for garnish

1 tsp. salt Hungarian paprika

1/2 tsp. white pepper l/2 tsp. sweet basil

1/4 cup juice from a jar of sweet pickles.
Divide yolks and whites, placing yolks in a bowl and whites on a serving tray. Mask the yolks with a form, then mix well everything except parsley and paprika. Fill each white section with a heaping teaspoonful of yolk mixture. Sprinkle lightly with paprika and garnish with parsley.
These are a bit more work, but still cost only about $3.00 or less, depending on what you have on hand. These are truly magickal eggs. If you doubt that, just try them and watch them disappear! You'd better eat one before you serve, or you won't get one.
COCKTAIL WIENERS AND LITTLE MEATBALLS
1 lb. lean ground beef

l package cocktail wieners, or l package wieners cut in 1 in. pieces.

1 small jar dijon mustard.

1 10 oz. jar grape jelly

1/2 cup fine cracker crumbs soaked in milk.

1 egg

1/2 tsp. garlic salt
Mix ground beef, cracker crumbs, egg and garlic salt. Form into tiny balls, about the size of a large grape. Place meatballs on cookie sheet and back in 475o oven for about 7 minutes. While they are baking, cook wieners as usual, in boiling water. Mix the mustard and jelly and heat well over low fire or in a double boiler, until smooth and showing no yellow streaks.
Add wieners and meatballs to sauce and serve hot (best in a warming dish). Serve with toothpicks for spearing. Makes about 80 hot appetizers.
This sauce sounds strange, but it is delicious. The cost will be around $5-6.00 if you buy the meat when it is on sale. To make even less work for yourself, substitute your favorite barbecue, sweet and sour, or teriyaki sauce straight out of the bottle. We think the sauce is worth the extra effort.
SEQUANAH'S MASHED POTATO SALAD
8 large potatoes, peeled, cut in chunks, and boiled.

1 cup Italian salad dressing

1 cup sour cream

1 tbsp dry mustard powder

1 bunch green unions (the white part) minced fine.

1 tsp. salt

1/2 tsp. white pepper

1/2 cup minced fresh parsley

2 tsp. celery seed (optional)

A few chopped green onion tops (the green part) for garnish
Marinate cooked potatoes overnight in salad dressing. Drain well. Mash the potatoes with a potato masher. Do not use blender or food processor, as you want to retain a little texture.
Mix well with all other ingredients except green onion tops. Chill well. Sprinkle lightly with green onion tops before serving, or garnish with paprika or a sprig of parsley, if you prefer.
This is an unusual potato salad, containing no eggs, pickles or mayonnaise. The cost is $3-4:00, and the work minimal. If you are serving a crowd, double the recipe, because it goes fast. (Will serve about ten people, one serving each.)
SPARKLING CRANBERRY SALAD (YULE)
1 can whole berry cranberry sauce

1 package (small) raspberry gelatin

1/2 cup dark red wine

1 cup boiling water

1 tsp. lemon juice

1 bunch red grapes (seedless or seeds removed) cut in half
Mix gelatin, boiling water, wine, and lemon juice. Chill in refrigerator until the gelatin starts to thicken. (Do not thicken by adding ice cubes. Mix in cranberry sauce and grapes. Pour into mold and chill until ready to serve. Once again, the cost is about $4.00 or so, and the little extra work well worth it.
This extra pretty salad can be done a couple of days prior to the festival. To make it even more attractive, line the serving plate with fancy ruffled lettuce before you turn the salad onto it.
1 large head of iceberg lettuce (or romaine, if you prefer)

1 lb. cooked seafood or chicken, cut up. (We suggest imitation crab)

1 can anchovy fillets (rinsed and minced)

2 cups sour cream

1/4 cup minced green onion

1/4 cup minced parsley

1/4 tbsp. chopped tarragon

1/4 cup tarragon vinegar

1 garlic clove (only to rub the salad bowl, don't mix it in!)
Mix sour cream with vinegar and seasonings. Add anchovies and mix well. Seal dressing in a jar and chill at least overnight. Before serving, toss lettuce and meat in dressing. Be sure to save some meat to decorate the top of the salad.
This costs a little extra, depending on what meat you use. It will probably run $6-7.00, or can be more with real crab or lobster. But who can resist a salad called Green Goddess! Actually, this originated in the early 1900's in San Francisco, to honor a play called "The Green Goddess." This is a variation on the original, which used mayonnaise instead of sour cream, so experiment if you want.
The chilled dressing is also a wonderful dip for fresh veggies, but you can't make it vegetarian because you can't leave out the anchovies. The dressing will keep for up to a week.
1 head iceberg lettuce in bite-size pieces

2 cans tiny cocktail shrimp

3 chopped hard-boiled eggs

6-9 chopped sweet pickles

1 small onion, chopped

Juice from one small jar of sweet pickles
Mix all ingredients just before serving, then watch it disappear. A guest once ate the entire bowl before anyone else had a chance to try it!
8 chopped hard-boiled eggs

1 1/2 lb imitation crab

2 cups diced celery

1 cup mayonnaise or sour cream.
Easy and inexpensive! This recipe is from Tyr's non-pagan mom. We have to hide this from him, or he won't let us have any!
1 pkg. spiral noodles, cooked

5 large plum (roma) tomatoes, cut into small chunks

2 raw carrots, grated

1/4 bunch of fresh parsley, minced

1 bottle oil-free zesty Italian dressing

A dash of garlic powder.

OPTIONAL ADD-INS

Chopped bell pepper

Diced raw zucchini

Diced yellow squash (lightly cooked)

1/2 cup green peas, green beans, or black olives
Toss salad to mix well. Be creative with color and texture for eye appeal. This is very low calorie and vegetarian, as well. Serves 8-10 (for more, double it!)

1 pork shoulder roast (with bone)

1/2 lb lamb stew

1/2 lb ham hock

1/2 lb. asst. sausage (knockwurst, bratwurst, etc.)

1 lb. beans (This can be great northern, red, fava, pinto, or an assortment thereof.)

2 large onions, chopped

4 garlic cloves, crushed

2 bay leaves

1 tsp. rosemary

1 tbsp. parsley

1 small can tomato paste

1 cup dry white wine

1/2 lb. smoked duck, chopped (optional)

Salt and pepper to taste

6 cups water.
Saute onions and garlic. Brown meats and add herbs and tomato paste. Saute one minute. Add wine and water. Bring to a boil then add the beans that have been soaked the night before. Bring to a boil again. Cover and lower heat. Cook for 3-4 hours.
While this recipe does not meet the requirements for time and expense, it sure does meet the one for taste, so this is why we included it.
3 cans white clam sauce

1 can whole baby clams

1 lb. rotini or other pasta

1 tbsp. chopped parsley

1 tbsp. Italian dressing

1 tbsp. garlic powder or 2 cloves mixed garlic

1 jar mushroom stems and pieces

Grated parmesan or romano cheese
Cook the pasta according to package directions. If you like your pasta al-dente, shorten the cooking time by about two minutes. Rinse pasta immediately under cold running water.
Mix together all other ingredients, except cheese. Heat over low flame until bubbles start to form around the edges, but don't boil. If you have a microwave, this does fine heated at full power for 5-7 minutes.
Toss pasta and sauce together in a large bowl. Serve cheese on the side.
This dish costs about $7.00 to make, but goes a long way, and is a favorite. If you like, you can substitute a can of cocktail shrimp for the can of clams, or to be really special, add both.
1 large head cabbage

1 8 oz. package macaroni shells or rotini noodles

3 tbsp. melted butter or margarine

1 onion, chopped

1 clove garlic, minced

Salt and pepper to taste

1 lb. sliced smoked sausage (optional)
Prepare pasta as described above. Melt the butter in a large dutch oven. Saute onion and garlic in the butter. Add the cut cabbage, cover, and cook over medium heat for 10-15 minutes, or until cabbage is as tender as you like it).
Toss the cabbage and noodles, including the liquid in the bottom of the cabbage pot. If you want a vegetarian dish, that's all there is to it and it only costs around $2.00.
If you are feeding "meat-eaters", brown the sliced sausage in a skillet, and toss it in. This will raise the cost to about $5.00, but it will be appreciated by all. It's great!
1 lb. ground beef

1 chopped onion

1 head of cabbage, cut up

1 bunch fresh parsley, chopped

3 cups cooked rice

2 tbsp. Worcestershire sauce

1 tsp. garlic powder

1 tsp. celery seed (optional)

Salt and pepper to taste
Brown ground beef in large skillet or dutch oven. Add onions, parsley and seasonings and cook a few more minutes. (Do not drain drippings.) Add cabbage, cover and cook for ten minutes, stirring several times to be sure all of cabbage gets mixed in. Mix in rice and serve.
This is even better served if cooked a day ahead and reheated. It has all the flavor of stuffed cabbage with none of the work! Not expensive, either. It costs about $4.00, depending on ground beef prices. To serve vegetarians, eliminate the ground beef and replace with 2 cans of peas. Saute the veggies in melted butter or margarine.
1 lb mild cheddar cheese, grated

1/2 lb provolone cheese, grated (cheeses may vary according to personal taste)

1 lb ham, diced

1 bag elbow macaroni

1/8 cup milk.
Cook macaroni per directions until done. Drain well. Pour 1/3 of the macaroni in a large casserole dish. Add 1/3 of the diced ham, then 1/3 of both cheeses. Repeat until the ingredients are used up, with a light cover of cheese over the top. Pour the milk over the top of the casserole. Cover and bake at 350 degrees until the cheese is all melted (approximately 30 min.) Serve.
This makes a very filling dish that the cheese lovers will really like.
8 chicken legs

8 chicken thighs

2 cups flour

1 cup Crisco oil

Salt and pepper to taste
Wash chicken well, and leave wet, coat with flower. Heat the oil in a 425 degree oven for 5 minutes. Arrange the chicken in the oil. (A large flat roasting pan is best for this.) Be sure the chicken is skin side down. Cook at 425 for 45 minutes. Add salt and pepper, then turn. Salt and pepper the skin side and cook 30 minutes more. Drain on paper towels.
This extra-simple recipe tops all the fancy coating mixes for flavor. People think you did it on top of the stove. If you use only legs and thighs, the cost is low. Great for "picnic" parties like Beltane. Using Crisco oil is important, because the chicken will be less greasy.
2 packages Uncle Ben's Quick Cooking Long Grain and Wild Rice

1 lb imitation crab

8 oz fresh bean sprouts

1 can sliced water chestnuts
Cook rice according to package directions. Stir in crab, sprouts and chestnuts. Cover and sit on back of stove for about ten minutes. Don't cook. Reheat in microwave at serving time. This can feed up to 15 people for around $5.00 and is almost no work. Just don't tell anyone how easy it was, and they'll think you are a gourmet cook!
Any or all of the following meats:

Chicken (cut in pieces)

Beef pot roast

Beef short ribs

Ham (with bone)

Lamb or pork shoulder.

You should have 3-5 pounds of meat, including bone. (The bone is important!)

Several bouillon cubes. (Use chicken for chicken or pork, beef for beef or lamb.)

1 onion, sliced

4 stalks celery, diced

2 cloves of garlic or 2 tsp garlic powder

1 small handful of chopped parsley

Salt and pepper to taste

Add seasonings such as bay, thyme, sage, rosemary, etc.

according to what you have on hand and what you like.

Water to fill pot.
Place all ingredients in the largest pot you can find. Heat until boiling, then cover and reduce heat to simmer. Cook for 3-4 hours, adding water as needed. Remove all bones from broth and return meat to pot. As each guest arrives, they should add their own contribution to the soup. For convenience, all contributions should be cleaned and cut up in advance, so they are ready to add. Continue to simmer throughout the ritual, or until all vegetables are cooked.
For an excellent vegetarian stock, eliminate meat and substitute six large beefsteak tomatoes, 4 cut-up carrots and several vegetable bouillon cubes.
2 full racks of beef back ribs

2 cups of any kind of wine, or 1 can beer

1 large onion, sliced

Salt and pepper

Garlic powder

Your favorite barbecue sauce
Cut ribs apart into single ribs. Sprinkle generously with garlic powder. Place ribs in large roaster with wine and onion. Cover and cook in 325 degree oven for 2 1/2-3 hours, until meat begins to separate from the bone. Remove the ribs from roast and drain all liquid from the pan. Discard any onion that remains. Return ribs to roaster and coat with sauce. Return to oven and cook uncovered for ten min. Turn ribs and add more sauce. Cook for ten more min.
These ribs can be cooked the day before and reheated on the BBQ grill or in the oven. Add extra sauced if reheating. They will reheat well in the microwave, approximately 1 min. per rib at full power. These will be the tenderest beef ribs you have ever tasted and will win the praises of all present. Allow a minimum of 2 ribs per person. They won't go to waste!

1 package instant chocolate pudding, prepared according to directions.

1 ready-made pound cake, cut lengthwise into four long slices.

2 cups chopped nuts (any kind)

1 can chocolate frosting.
Place bottom layer of cake on a plate. Spread pudding over cake, leaving 1 inch around the edge. Sprinkle pudding with 1/2 cup nuts. Cover with the second layer of cake and repeat. Repeat again with the third layer. Top with the top layer of cake. Spread frosting over top and sides. Decorate with the remaining 1/2 cup of nuts.
You can prepare this fancy treat in about ten minutes. Keep all the ingredients handy for last minute pot-lucks. Even if the guests know you didn't bake it yourself, they'll be too busy indulging themselves to care. The cost is around $5.00 and well worth every penny to chocoholics!
For a non-chocolate variation on this, use vanilla pudding and strawberry or raspberry jam instead of chocolate and nuts. Swirl some jam into a design on top of vanilla frosting. If using jam between the layers, spread jam first, then top with pudding. This is also less expensive, since jam costs less than nuts.
Fruit in season, cut into 1 1/2-2 cubes

1 cup of Cool-Whip

1 cup of sour cream

1 package frozen strawberries with syrup
Combine Cool-Whip, sour cream and berries (including syrup). Mix well (preferably with hand mixer, or blend in blender. Serve on top of fruit.
This is excellent in the summer with melon, peaches, berries, etc., but will work equally well with apples, oranges, pears, and bananas in Winter. The cost of this dessert varies according to your choice of fruit, but is usually well within budget.
2 prepared graham cracker piecrusts

2 packages of frozen strawberries

2 serving-size containers of raspberry flavored yogurt

2 8 oz tubs Cool-Whip
Mix raspberries, yogurt and Cool-Whip together. Save a few berries to decorate tops of pies.) Pour into pie crusts and top with reserved berries. Place in freezer for one hour before serving. Makes 2 pies.
If you like, you can top with additional Cool-Whip when you serve these luscious pies.
Large apple (1 per person)

Brown sugar

1 bag "red hot" cinnamon candies

1 bag large marshmallows
Core the apples to approximately the same size as the marshmallows. Seal one end of apple with a marshmallow. Add a small amount of red hots (10-20). Add brown sugar to approximately the half-way point. Put in 5 more red hots, then add more brown sugar. Top it off with 10-20 more red hots and a marshmallow to seal it all up. Wrap it up tightly with aluminum foil. Bake in oven at 375 degrees for 30-40 min.
Be sure to pour the sauce created by the sugar, red hot, marshmallow combination back over the apple. These are wonderful for celebrating the harvesting of apples for the Hallows feast.

1 orange or lemon

2 economy size cans frozen lemonade

1 economy size can frozen grapeade

1 2 liter bottle lemon-lime soda

1 or 2 bottles inexpensive champagne
Mix the liquids thoroughly into a large punch bowl. Slice up the fruit. Add ice to the bowl, then lay the fruit slices on top of the liquid so they float.
This punch is very good and goes fast. It isn't too sweet and at around $6.00 is a real festival winner.
4 lbs. assort fruit, chopped. (Peaches, cherries, nectarines, melon, strawberries, apples, pears, etc.)

1/2 cup sugar

1/2 cup fruit-flavored liqueur

1 gallon light red wine or medium dry white wine
Place chopped fruit into a large container and add sugar and liquor. Mash fruit lightly. Add wine. Soak for at least 1 hour. The longer the better. Add ice and serve.
This punch goes a long way and is very tasty.
SPARKLING ORANGE BLOSSOM PUNCH
1 2-litre bottle orange carbonated drink

1 2-litre bottle 7-UP or other lemon-lime soda

1 qt. champagne

Mix all together in punch bowl. Add ice (crushed, if possible).
You can use the most inexpensive champagne, in fact, you should! Don't mix "the good stuff" with soda pop! This is really good. Great for Summer Solstice breakfast!
1 pt cranberry juice cocktail

1 6-oz can frozen orange juice, thawed

1 tbsp sugar

1/4 tsp cinnamon

1/4 tsp allspice

1/4 tsp ground cloves

2 pink wine (blush or pink chablis)
In a large kettle, combine all ingredients except wine, plus 2 cups water. Heat, but do not boil. Add wine and heat again, without boiling. Pour into a large bowl, add sliced oranges studded with whole cloves for decoration.
2 1/2 gallon of any flavor softened fruit sherbet

1 2-litre bottle 7-UP or other lemon lime drink
1/2 gallon at a time, mix sherbet with 1/2 bottle of 7-UP in large mixing bowl. (Use hand mixer on slow speed.) Pour all into a large punch bowl. Serve with straw and spoon. This is wonderful for hot summer days -- Beltane, Midsummer, Lammas, and, if you live in California or any other warm climate, even for Autumn Equinox.